Tucson Construction Pressure Washing
If you're a contractor getting ready to turn your project over to your customer and need a reliable and experienced pressure washing service for construction pressure washing, try Tucson Pressure Wash.  We're the ones you want to wash away the dirt, marks, adhesives, and other construction byproducts left by the various trades on walls, hardscape, or parking lots.  We've seen every conceivable adhesive and construction by-product there is.  We'll take care of Drywall Mud, Paint, Epoxy, Liquid Nails, Chalk, Keel, Mastic, Caulk, Grout, Mortar, and Stucco.  Whether you're finalizing a residence, commercial building, or an industrial facility, Tucson Pressure Wash is your best choice.  We have all the necessary pressure washers, power washers, surface cleaners, and other accessories to work efficiently and get the job finished fast.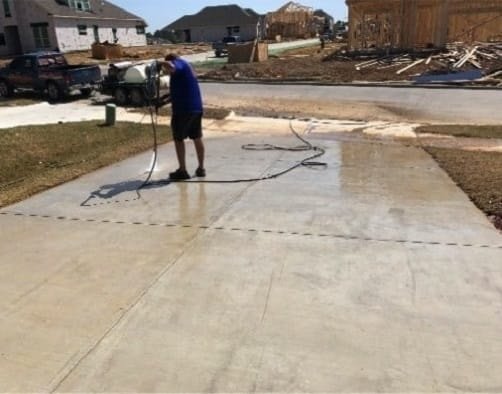 Got a major spill on your unfinished project?  Or are you looking to get that finished residential project ready to turn over to the new owner?  Tucson Pressure Wash has the equipment and know how to clean that mess and resolve your problem.  We can remove paint, caulk, glue, mortar, mastic, grout, and more from the building's exterior walls, walkways, porches, patios, and driveways.  We'll even do the windows if it's needed.  The perimeter surfaces will sparkle.  Call us today.
TPW will also handle final clean up on commercial facilities whether it's a restaurant, shopping center, bank, or anything else​.  Just like for residential building, the exterior surfaces will be left immaculate.  And if needed, we'll implement our surface cleaners to take care of the parking lot.
For industrial sites, we're safety trained on boom lifts to 80' and are knowledgeable about the cleaning products and proper pressures to use for each type of surface.  On masonry projects like above, we're often called out to wash mortar spills or excess mortar off the joint spaces.  Using low pH hydrochloric acid to dissolve the high pH lime component of the mortar, we break the mortar bond and off it comes.  A final rinse and it looks great.