Tucson Commercial Pressure Washing
Businesses owners know the importance of maintaining a clean facility and how it impacts customer satisfaction.  A dirty and grimy entryway or a common area that looks filthy certainly hurts an establishment's image.  The solution to these image issues is an easy one.  Give Tucson Pressure Wash a call and we'll set you up on a periodic wash schedule.  Having us come out every 4 or 6 months to wash away any food or drink stains, gum, heavy foot traffic or other marks will leave you with a spotless facility that will invite customer contentment.  A sparkling facility will also instill a sense of pride in the business's staff.   We're experts at washing building structures, hardscapes, parking lots, dumpster pads and graffiti removal for commercial establishments in the greater Tucson area.
Commercial Pressure Washing 
Restaurants tend to get dirty often, and keeping yours clean ensures that your diners will keep coming back.  Having a clean facility is also an underlying determining component of pricing.  Economics of supply and demand are evident when your restaurant is clean, customers recognize it, and they beat a path to your door.  When your place is busy, the justification for higher pricing is evident.  Be an owner that has an immaculate facility by scheduling bi-monthly exterior cleanings and reap the benefits.  We'll even do it when you're closed so there's no impact to your operations.
​Are your dumpster pads a greasy, grimy and disgusting area - maybe even an area that entices vermin?  Do you have people in your facility that would rather call in sick than to have to take the trash out?  Take a look at your dumpsters and their surrounding areas and if they're something resembling a pigsty, give Tucson Pressure Wash a call.  We'll be out with our 200 degree heated water, 3000 PSI of pressure, and eco-friendly, biodegradable cleaning solutions to  transform it into place of which your workers won't be scared.
Even if your job requires specialized equipment like this boom lift used to clean this industrial building, you can be confident that TPW is the right company to get the job done.  We have experience with booms and our technicians have been checked out on the operational procedures of booms up to 80'.  The use of a boom lift is by far the most efficient way to tackle hard to reach areas.  So, whether you need specialized equipment or just power washing with a surface cleaner, you'll see results like we achieved at the Kino Sports Complex.
​Are your facility's parking lots a stained and filthy mess?  Just call us and we'll be there with our heated power washer and surface cleaner attachments to bring them back to immaculate shape.  Our power washing heater will heat the water to over 200 degrees and used with the proper cleaning agents will eliminate stains, marks, gum, and more.  And when used in conjunction with the 3500 PSI of pressure, the dirt and grime doesn't stand a chance, just like it didn't stand a chance when we completed a job in the Flowing Wells area of Tucson.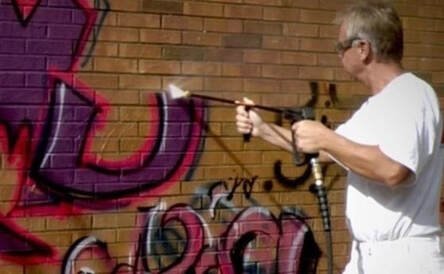 All business owners know that graffiti detracts from the buying experience and turns off customers.  But one thing that all business owners DON'T know is how important it is to get it removed quickly.  Studies show that quickly eliminating the graffiti greatly discourages the taggers.  When their irresponsible acts can't be readily seen, they're much less motivated to tag there again.  They are in it for the notoriety.  Eliminating that is a key step in deterring the tagging in the first place.   For this reason, Tucson Pressure Wash prioritizes graffiti calls and strives to take care of it the same day.  Call us.  You'll be glad you did.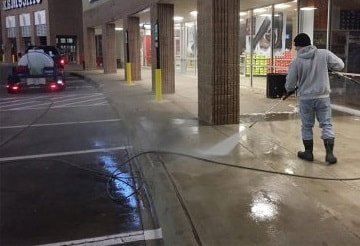 One of the first places customers see upon entering a business is obviously the business's storefront.  Is yours covered with dirt, marks, food stains, and gum?  If so, it's probably keeping some potential customers away as well as allowing all that yuck to be tracked INSIDE your business.  Keeping the storefront clean is a surefire step to ensuring customer satisfaction, maintaining customer retention, and lessening the cleaning that's needed on the inside.  One call and TPW will have your business's exterior shining and leave your customers with the urge to return.